ROSE QUARTZ 
LOVE + HARMONY + HEART CHAKRA
AFFIRMATION: I open my heart to receive and express the energy of love.
Rose Quartz is the stone of universal and unconditional love. It restores trust and harmony in relationships, encouraging unconditional love. Rose Quartz purifies and opens the heart at all levels to promote love, self-love, friendship, deep inner healing and feelings of peace.
Rose Quartz Meaning
Rose Quartz is often called the "Love Stone." It's energetic hallmark is that of unconditional love that opens the heart chakra. This makes rose quartz a stone for every type of love: self-love, family, platonic, romantic, and unconditional. As a variety of quartz, rose quartz has high energy, and this strong energy can enhance love in virtually any situation.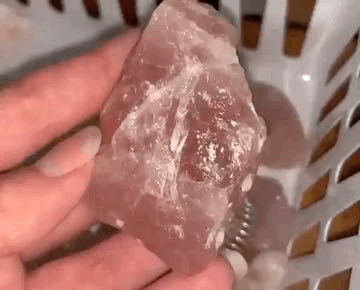 This stone of unconditional love that opens the heart chakra to all forms of love: self-love, family love, platonic love, and romantic love. The high energy of quartz gives rose quartz the property of enhancing love in virtually any situation. Bringing love in to life and daily situations not only brings inner warmth, but it also lowers stress and soothes those around it. Rose quartz is a very happy and loving stone.

In the psychic and spiritual realms, rose quartz is often used to attract love, for love spells and charms. 

Rose quartz is used to raise self-esteem and a strong sense of self-worth. Its loving energies teach us to apply this love to ourselves and thereby find ourselves more worthy.

Emotionally, rose quartz is used to balance emotions and bring peace and calm. This calm emotional balance brings stress relief and easing of anxiety. All these things carry energies of forgiveness, tolerance, and compassion to the fore, enabling us to see the good in both ourselves and others.
Please note that each bracelet is unique in appearance as every one of us. Because all of our gemstones are cut from 100% natural stone, there is always color variation. Actual bracelet you will receive might not look exactly the same as the one shown in the pictures above, but the color will be similar. We only stock quality gems.