No worries of dull and dry skin! Our
PureSkin™ Eggplant Deep Cleanse Stick Mask
helps
 purify pores by lifting away dead skin cells, dirt and toxins

 to leave your skin looking 

clear and radiant. 
82.4% of the users found that it helps minimize pore and prevent blackhead formation within the first 2 weeks of use.  

Formulated with volcanic mud, powerful antioxidants 
and eggplant

,

 which penetrates clogged pores to 

dissolve impurities 

like

 acne and blackheads, control excess oil 

and sebum production, stabilize and

 

soothe blemished skin
.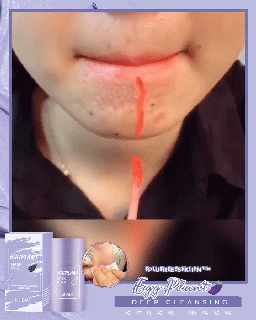 Simply switch up the stick, apply the clay mask directly on the face and leave it for 5 minutes, and you can experience the magical detoxification! It intensely revitalizes and regenerates the skin cells, resulting in ultimate antioxidant, whitening and anti-wrinkle effect.

FEATURES:
Detoxifies Impurities:
Takes away the acne, pimples, blackheads under the skin, gets rid of excess oil production and clogged pores, achieving pore refining, pH balance and flawless skin.



Precise Application:


Designed in easy-to-grip stick shape, it is just simple to apply it with proper amount. Mess-free and clean.


Perfect Rejuvenation:
Protects the skin from aging caused by toxins and environmental triggers, and restores and replenishes dull complexions for more revitalized, healthy-looking skin.


Gentle Exfoliation:
With volcanic mud and small exfoliating beads, dead skin cells are gently removed, oil levels are controlled and pores are protected with natural antioxidants.



Smooth Wrinkles & Fine Lines:


Natural extracts activate the basal cells and natural collagen growth of the skin, which increases the elasticity of the skin.



Anti-Aging & Rejuvenating:


Reduce the dryness of skin and help in increasing the metabolic rate. This would prevent the skin from premature aging.



Antioxidant & Moisturizing:


Formulated with powerful antioxidants, which provide long-lasting hydration to improve resilience and firmness while softening and smoothing your skin.


SPECIFICATIONS:
Egg Plant Mask Ingredients: Egg Plant Extracts, Volcanic Mud, Vitamin E, Glycerin

Green Tea Mask Ingredients: Green Tea Extracts,

 

Volcanic Mud, 

Vitamin E, Glycerin
Weight: 40g

PACKAGE INCLUDES:
1pc x Eggplant Deep Cleanse Stick Mask